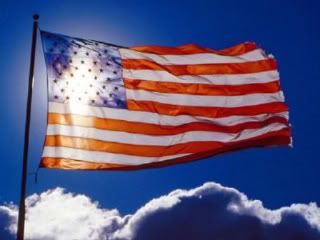 (Photo courtesy of Photobucket)
Tomorrow is going to be a bitter sweet day. The hubby decided last weekend that we were going to drive to
Arlington Cemetery
tomorrow. Waking up at 7am is not something that I am looking forward to. However, I am super excited about getting to site see. He is also wanting to site see around
Washington DC
. I'll be able to take some awesome photos with my Nikon; Including some once in a lifetime shots I'm sure. Don't worry though- I'll be sure to share them sometime this coming week.
It is definitely going to be an awesome trip but on the flip side, a bittersweet experience. See, we're not just going to site see. We are going to visit one of my husband's closest friends.
A true American Hero. One of the ones that have paid the ultimate price for our Freedom. Daniel Frazier.
There will be tears I'm sure as we find the stone marked with his name. Noted by the rank of
SGT
. that he so sacrificially earned. Photos will be taken as my husband speaks his "Hellos" & "Goodbyes". Along with the "Thank Yous" that will be bleeding forth from all of our hearts. He was never able to meet our son but tomorrow he will.
I am a person with a very tender heart and already know that it's going to be tough seeing my husband at his lowest. His most vulnerable. Heck- the only time I have ever seen him vulnerable is when it comes to what all happened his 2009-2010 tour in Afghanistan. Not only did we lose Daniel, we also lost another close friend of my husband's
SSGT Cleaver
, and many others. It truly was a nightmare. Something that I hope to never have to live through again. It was horrible for us on the home front. Even more terrible for the guys who lost
Buddies, Comrades, Brothers
.
So, though tomorrow will be family fun filled. The fun will come with heaviness of our hearts. There will be pictures for me to share. Some will be too personal to share. All will tell a story; Be it upfront and out in the open or something that no one else knows but my husband. I ask that you all keep us, especially my husband, in your thoughts. He's a tough one but tomorrow just may bring us all to our knees.
Thank you everyone for being such awesome readers and fans. Hope you all have a wonderful Sunday. It's time for me to head to bed because 7am comes way too early. I mean, come on- you know it's early if I have to wake up Bubbie...
♥,
Jessica