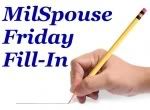 1. Have you and your spouse agreed to live in separate locations (a geographical bachelor tour) knowing that the short-term inconvenience would have long-term benefits for your family? How did it work for you? submitted by When Good People Get Together
- This isn't something that we have experienced, thank goodness. Honestly, I don't think that it'd be something that would work very well with our relationship either. Some people can handle it, I'm just not one of those people. Deployments are hard enough with the distance & such...
2. What is your favorite thing about being a MilSpouse? submitted by Sarah Ruth
- I would have to say that being able to see various places, that I wouldn't as a non-Milspouse, is my favorite. Sure the moving sucks but it's still an opportunity to see other areas than were I initially lived.
3. If you could still have your spouse/significant other and your family, but take the military life out of it…would you? submitted by Trust. Love. Believe. Bake.
- We have had too many 'close calls' with only one deployment but yet another deployment is quickly approaching. With that said, I'd gladly take the military part out of it... I love the benefits & such but once you get a call like I've received, all the benefits in the world just aren't worth it.
4. What have your homecoming experiences been like after a year long tour of separation? submitted by Army Soldier, Army Wife
- Our last homecoming was nice. It was exciting even though we didn't do anything real special. I baked a cake & had some of his favorite snacks when he came home. The best part was finally having him home with myself & our son. Especially since he left when Bubbie was only 10 days old.
5. If you have a child(ren) why you chose their name(s)? If not, why you would name your child something? submitted by Tiara's & ACU's
- Our Bubbie was named from a list of names I liked. The Hubby & I could not agree on a name & so I made a list and told him to pick two. Just happens that his middle name is his great uncle's name as well. Odd how his name was picked but it fits him perfectly.