Okay, so I wanted to write to Totally brag to you guys. Recently, I decided to try to get into the whole couponing thing. No. No. Not the 'Extreme Couponing' that we are all obsessed with on TLC (Frankly, I do not have enough time for that). With the way life is right now I am slowly making my way into the 'money saving' pool. Anywho~ I had some coupons that were going to expire today & so I decided to take a trip to my two favorite stores. Food Lion & Farm Fresh After getting home, I was so giddy about the savings I accomplished that I wanted to share it with you guys! A girl deserves the right to brag, right?
First we went to Farm Fresh. I had a couple coupons that I had been rewarded as a result of my last shopping trip. Farm Fresh is a store that I enjoy because they are one of few around here that double coupons (up to $.99 daily) & to make things even better- on Wednesdays they double coupons up to $1. Imagine my delight when I got there & then realized that it was Wednesday! I had a coupon for everything except for the Koolaid & the Gerber juices. However, the Gerber juices were on closeout ($1.50 each). Add to that the coupons from my previous trip, the doubling of the ones up to $1 and I saved
60%
!!
(Total Spent= $10.62 Total Saved= $14.50)
This doesn't even include all that I saved on all of the Gerber juice 4pks.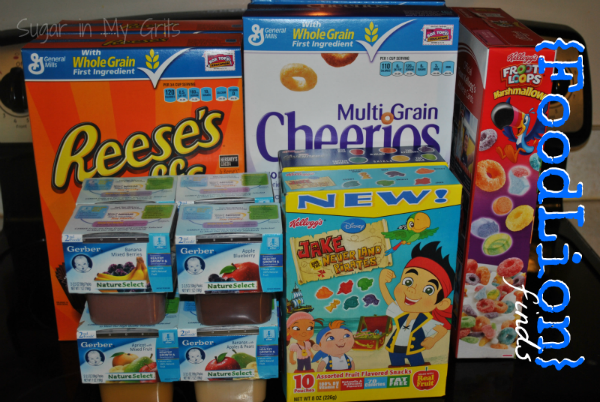 (There's 2 boxes of Reese Cereal & 2 boxes of Cheerios)
Going into Food Lion, all I had a coupon for was Stage 2 Gerber baby food. I also had a couple coupons, courtesy of Gerber, towards any purchase from my last shopping trip. However, once I got there I found a few great coupons to combine with some pretty sweet in-store deals. After all was said and done I ended up saving
49%
!!
(Total Spent= $21.34 Total Saved= $20.68)
All in All, I'd say it was a pretty good day for saving!

::Be sure to check out my 5 Beginner Tips for Saving on Groceries::